China LD Slewing Bearings Manufacturing Co., Ltd.
Add: North Lutong Road 188#, Yangshan, Huishan District, Wuxi, Jiangsu, China
Post Code: 214156
Email: globalsale2013@gmail.com

Slewing Ring
Characteristics:
Slewing ring, also known as turntable bearing, is suitable to coordinate control various types of loading including axial, radial and tilting moment loads with a large diameter. Lida produce multiple bearings up to 157" (4,000 mm).
Slewing ring is available in various sizes and type like a gearless, internal, or external gear configuration; lubrication holes and grease seals.
Lida could offer a cross rolling element or with either a double or triple row internal configuration if required. All of the products will be well-arranged for transportation.
Combined, all of these variables can be offered by PSL to their customer as a compact and economical arrangement for their basic and complex slewing rings and turntable bearings needs alike.
Designation:
The meaning and symbols of Lida slewing rings designation: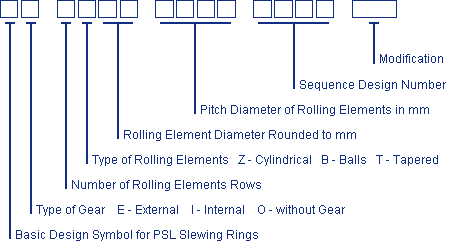 Single Row Four point Contact Ball Bearing
Description:
The single row four point contact ball bearings are suitable to high speed and high precision rotary, and can bear combined load. The single row four point contact ball bearing includes inside and outside rings. Single-row four point contact ball ring is compact and light. With balls roll on the circular race at four points, it can control the axial force, radial force and tipping moment at the same time. The axial load bearing capacity increases with more contact angles, and single row four point contact ball bearing would rotate at a high speed.
This series of four point contact ball bearing are used widely in engineering machinery, such as rotary conveyor welding operation machine, small cranes, small and medium-sized excavators and so on
Related products
Crane Slewing Bearing
Our slewing ring is an essential and strategic part to ensure the crane light structure. The quality and the precision of our manufacturing ...

Construction Machinery Slewing Bearing
Our slew bearings are applied in various kinds of construction machinery, such as tower ...