China LD Slewing Bearings Manufacturing Co., Ltd.
Add: North Lutong Road 188#, Yangshan, Huishan District, Wuxi, Jiangsu, China
Post Code: 214156
Email: globalsale2013@gmail.com

Double Row Different Ball Slewing Bearing
1. Description:
This series of slewing bearing is mainly made up of in-up ring, in-down ring and outside ring, so balls and spacers can be directly discharged into the upper and lower raceway. According to stress conditions, bearings are arranged to two rows of balls of different diameter. This assembly is very convenient. Angle of both upper and lower raceway is 90°so bearings can bear large axial force and resultant torque. Bearing needs special design when radial force is 0.1times larger than the axial force.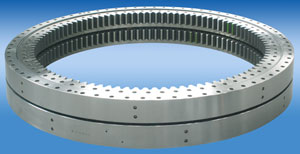 2. Application
Large in sizes and features compact in design, bearings are particularly application in handling equipments requiring medium above diameter, such as tower crane and mobile crane.
3. Type: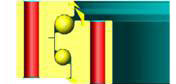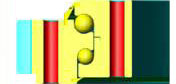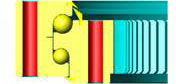 no teeth type
(non-geared)


outer teeth type
(external geared)


inner teeth type
(internal geared)


non-gear (no teeth type), external gear (out teeth type), internal gear (out teeth type)
4. Delivery time: 1 day - 120 days.
5. Payment: T/T, ILC (irrevocable letter of credit) etc.
6. Packaging: Metal pallet or plywood box.

We are professional manufacturer and supplier of double row different ball slewing bearings in China. We make all kinds of slewing bearings, such as single-row four points contact ball bearing, single-row four point contact ball bearing, double-row same ball diameter bearing, three-row roller bearing, ball and roller combined bearing. We are capable to design and manufacture non-standard slewing bearing independently. Our products are widely used in various application fields, such as port, ship, vehicle, mining, engineering, lifting, environmental protection, oil, chemicals, light industry, metallurgical machinery and the military etc. With 19 years of experience, our products are widely export to USA, Germany, Japan, Spain, Canada, Italy, France, Finland, Korea, India, Singapore, Brazil, Australia etc. If you need double-row different ball slewing rings, please don't hesitate to contact us.
Related products