Ladle Turrent Slewing Bearing
Slew bearings capable of handling high temperatures and supporting high axial loads are sued for these applications.
(1). Ladle turret
1. Delivery time: 1 day - 120 days.
2. Payment: T/T, ILC (irrevocable letter of credit) etc.
3. Packaging: Metal pallet or plywood box.
We are professional manufacturer and supplier of ladle turrent slewing bearings in China. We make all kinds of bearings for foundries and steel works, such as ladle turrent. We are capable to design and manufacture non-standard slewing bearing independently.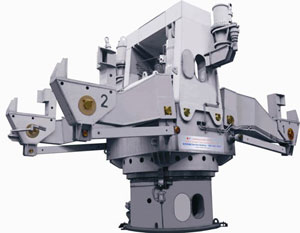 Ladle turrent

Our products are widely used in various application fields, such as port, ship, vehicle, mining, engineering, lifting, environmental protection, oil, chemicals, light industry, metallurgical machinery and the military etc. With 19 years of experience, our products are widely export to USA, Germany, Japan, Spain, Canada, Italy, France, Finland, Korea, India, Singapore, Brazil, Australia etc. If you need ladle wind power bearings, please don't hesitate to contact us.
Related products
Light Series Slewing Bearing
The light series slewing ring bearings can makes the rotation of the solar panels, which is a good solution to increase the production of energy, ...

Ferris Wheel Slewing Bearing
We are profession in the field of designing, manufacturing and providing technical service for slewing bearing for ferris wheel. ...